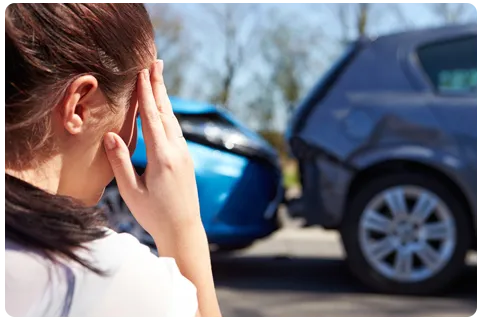 "I started going to Dr. Robinson several months ago when I was rear-ended in a car accident. After the accident, I thought I would never be pain-free again and fell into a depression. After just a few weeks of being seen at the office, I noticed huge changes. I could finally get out of bed without tears. I could go back to work. Dr. Sam always takes his time with me and I absolutely LOVE Gina & Britt. The only pain I leave with is in my stomach from laughing so hard with the staff. They are only 3 minutes from my house and I am SO glad I am a patient there."
-K.E.
Auto Accidents
Don't make the mistake of not getting the help you need after suffering from an auto accident. Symptoms can show up immediately OR can start a few days or even weeks afterwards. Don't wait! Your body is already trying to heal it's injuries and we want to make sure it is healing them in the correct manner. Loss of motion can be lost if not treated correctly.
Dr. Sam Robinson has received extensive training and examination in biomechanics, occupant kinematics, clinical diagnostics, and management of spinal trauma and mild traumatic brain injuries. He holds an Advanced Certification in Whiplash and Brain Injury Traumatology, from the Spine Research Institute of San Diego. With this training and his years of experience, he is highly skilled at handling the treatment and documentation necessary for your injuries. Once a patient has been to our center, they return to us if they've been in another accident or suffer an injury because they know the high level of quality care they will receive. We take great pride in helping our patients achieve their goals.

Not seeking treatment after an accident injury can result in incorrect healing of the body, resulting in a greater loss of mobility and long term health issues. Common issues in patients who have not received treatment are chronic neck pain, headaches or migraines, numbness or weakness in arms and legs, memory loss, loss of concentration, back pain, shoulder pain, depression, and advanced arthritis or joint degeneration. Studies show that about half of the people that are injured in an accident still suffer from symptoms years later.
Don't wait! You only have 14 days from the day of accident to seek treatment through your insurance. The body's internal response to injury can minimize or hide your symptoms until you try to return to normal activity. Get checked out now to ensure that you are able to receive proper care through your auto insurance. It's no cost to you. REQUEST AN APPOINTMENT
Here at Robinson Chiropractic & Physical Therapy our providers have over 13 years of experience in handling auto accident injuries and whiplash trauma.
Comprehensive treatment is provided with a variety of therapies to reduce pain and swelling. We focus on healing and rehabilitation for our patients by utilizing massage therapy, cold laser, ultrasound, stim, heat, ice, taping, and bracing. By utilizing chiropractic, physical therapy, and massage therapy we help rehabilitate our patients back to being out of pain and living a better life.
Supportive rolls, pillows, belts, and hydro therapy are also used to help assist our patients in their recovery. Our patients typically find immediate relief with the treatment we provide and establish great confidence in the care of our providers. You can be confident that the treatment we provide will help you reach maximum recovery.
Motorcycle Accidents
These accidents are sometimes more complex because the rider is exposed to receiving more severe injuries on a motorcycle than in a protected vehicle. We provide gentle and thorough treatments in getting our patients back to maximum recovery. Our clinic provides the rehabilitation necessary for spine or mild brain trauma, scars, broken bones, torn ligaments, and surgically repaired joints. We have great success with motorcycle accident patients and are very experienced in handling the injuries incurred. Again, these patients return to us for future care because of the high level and quality of care they have received.
14 Day Rule
Don't delay in seeking treatment. In Florida you only have 14 days from the date of accident to seek treatment for an auto accident. If you don't see a doctor within 14 days you lose all your rights to your insurance benefits. Call today for an appointment! REQUEST AN APPOINTMENT
Transportation

If you lost your vehicle in an accident or don't have transportation while it is being repaired. We can provide transportation through your auto insurance. Please ask us for more details. CALL FOR DETAILS
Read more about Whiplash and recovery
Numerous studies have shown that years after auto accident victims settle their insurance claims, roughly half of them state that they still suffer with symptoms from their injuries.
If you have been involved in a car accident, your injuries need to be taken very seriously. Because symptoms of some injuries can take weeks or months to manifest, it is easy to be fooled into thinking that you are not as injured as you really are.
Too often people don't seek treatment following a car accident because they don't feel hurt. Unfortunately, by the time more serious complications develop, some of the damage from the injury may have become permanent. Numerous studies have shown that years after accident victims, especially those with whiplash injuries, settle their insurance claims, roughly half of them state that they still suffer with symptoms from their injuries. If you have been in a motor vehicle or any other kind of accident, don't assume that you escaped injury if you are not currently in pain. Contact us today! CALL TO SCHEDULE