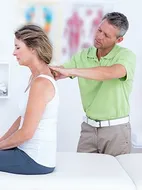 Here at Robinson Chiropractic & Physical therapy, we offer one on one sessions of physical therapy with a licensed Doctorate of Physical Therapy. Physical therapy will help you recover faster from injury, surgery or illness. It is designed to help ease pain, improve function and movement, and get you back to living a better quality life.
Our physical therapist Nate Possert PT, DPT obtained his doctorate in physical therapy at the University of South Florida where he also received his Bachelors in Athletic Training. With over 11 years of training and experience in the hospital setting, outpatient clinic, and home health care fields he is an excellent clinician.
He is skilled at evaluating and developing treatment plans and working through various programs of stretching, strengthening, and manual therapy. These programs help our patients reach their desired goals of reduced pain and better movement.
Treatment plans are tailored specifically to the individual patient and customized along the way as improvement progresses.
Dr. Nate incorporates stretching, along with exercise to reduce pain and reach a maximum rate of function or movement. Even if you have had a joint replacement, laminectomy, discectomy, or fusion; you will find our therapist skilled in the treatment necessary for your rehabilitation.
Different Conditions We Treat
Low Back Pain Post Surgical Rehab for Spine & Joint Auto Accident Injuries
Spine & Joint Injuries Balance and Fall Prevention Sports Injuries
Strengthening and Endurance Parkinson's or Stroke Rehab Work Related Injuries
Types of Therapy Include

Therapeutic Exercise Neck and Back Spinal Traction Gait Training
Neuromuscular Re-education Manual Therapy Joint Mobilization

Our clinic enjoys helping patients overcome injuries, surgeries, or the use of walking devices
and to learn the skills they need to reduce pain, move, and live better.
We accept most insurance, self pay programs, veterans benefits, workers compensation, automobile/motorcycle insurance claims, and slip and fall claims. Our friendly representatives will be happy to schedule you an evaluation.